NYT Best Seller Dr. Kate Clifford Larson on Fannie Lou Hamer & the Mississippi Civil Rights Movement — The Learning Curve
This podcast was originally published on the The Learning Curve.
This week on "The Learning Curve," co-hosts Cara Candal and Gerard Robinson talk with Dr. Kate Clifford Larson, a New York Times best-selling biographer of Harriet Tubman and Fannie Lou Hamer. Kate shares why she has written about these historical African-American figures, and how she thinks parents, teachers, and schools can draw on their lives to talk about race. She describes the deeply segregated Jim Crow landscape of Fannie Lou Hamer's native Mississippi Delta, the challenges she faced, and the influence of Freedom Songs and spirituals like "This Little Light of Mine," often performed at her rallies, on her tireless advocacy. They discuss Hamer's courageous voter mobilization efforts during Freedom Summer and at the Democratic National Convention in Atlantic City, both during the summer of 1964, and why it's so important for Americans to know about this unsung heroine of the Civil Rights era. They also explore Hamer's reception by President Lyndon Johnson and the often male-centric Civil Rights Movement.
Stories of the Week: Around the country, K-12 online learning is experiencing a decline in interest among families, especially in programs with less live instruction and interaction with teachers and peers. A report from the National Student Clearinghouse shows that just over 40 percent of 2- and 4-year college students across the U.S. during the 2020-21 academic year were men.
Guest: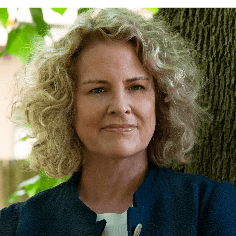 Dr. Kate Clifford Larson is a New York Times and Wall Street Journal best-selling author of three critically acclaimed biographies: Bound for the Promised Land: Harriet Tubman, Portrait of an American Hero; Rosemary: The Hidden Kennedy Daughter; and The Assassin's Accomplice: Mary Surratt and the Plot to Kill Abraham Lincoln. After earning BA and MA degrees from Simmons University and an MBA from Northeastern University, Larson earned a doctorate in American History at the University of New Hampshire, specializing in 19th and 20th century U.S. Women's and African-American history. She has consulted on feature film scripts—including Focus Features' Harriet starring prize-winning Cynthia Erivo and Robert Redford's The Conspirator—documentaries, museum exhibits, curriculum guides, public history initiatives, tour guides, and numerous publications. Dr. Larson has appeared on local, national and international television, including the BBC, PBS, and C-Span, cable networks, and CBS Sunday Morning. Dr. Larson's latest biography, Walk With Me, explores the remarkable life of Civil Rights icon, Fannie Lou Hamer and is due out from Oxford University Press in September.
The next episode will air on Wednesday, September 15th with guest, Leon Kass, MD, the Addie Clark Harding Professor Emeritus in the Committee on Social Thought and the College at the University of Chicago.
Tweet of the Week:
As part of an urban renewal initiative in New Jersey, @UncommonSchools recently applied its model in a turnaround setting. We share results in a new report: https://t.co/pdLkq6XTuq

— Mathematica (@MathematicaNow) September 4, 2021
Join the conversation and comment on this podcast episode: https://ricochet.com/podcast/the-learning-curve/nyt-best-seller-dr-kate-clifford-larson-on-fannie-lou-hamer-the-mississippi-civil-rights-movement/.
Now become a Ricochet member for only $5.00 a month! Join and see what you've been missing: https://ricochet.com/membership/.
Subscribe to The Learning Curve in Apple Podcasts (and leave a 5-star review, please!), or by RSS feed. For all our podcasts in one place, subscribe to the Ricochet Audio Network Superfeed in Apple Podcasts or by RSS feed.
For more information, see the original article.