UGA Prof. Valerie Boyd on Zora Neale Hurston, the Harlem Renaissance, & Black History Month — The Learning Curve
This podcast was originally published on the The Learning Curve.
This week on "The Learning Curve," Cara and Gerard celebrate Black History Month with Professor Valerie Boyd, the Charlayne Hunter-Gault Distinguished Writer in Residence and Associate Professor of Journalism at the University of Georgia, and the definitive biographer of Zora Neale Hurston. Boyd discusses why Hurston is such an important novelist and cultural figure, and the influence of Hurston's 1937 classic novel, Their Eyes Were Watching God, on American literature. She describes Hurston's early experiences as the daughter of a Baptist preacher and sharecropper, the granddaughter of ex-slaves in Eatonville, Florida, one of the first self-governing, all-Black municipalities in the U.S., and the profound influence that her upbringing had on her worldview. They also review the central role she played as the seminal female figure of the Harlem Renaissance, a flowering of Black art and culture in 1920s-era New York City. Boyd's 2003 biography of Hurston, Wrapped in Rainbows, features the first published excerpts from Hurston's book Barracoon: The Story of the Last "Black Cargo," drawn from an interview with a survivor of the last-known transatlantic slave ship. Professor Boyd concludes with thoughts on Hurston's legacy, and lessons for young people today.
Stories of the Week: Exam and magnet schools across the country, including the prestigious Boston Latin School, are eliminating their admissions criteria – at first, the change was temporary in response to COVID-19, but some are pushing for it to become permanent, to achieve racial balance. On the campaign trail, candidate Joe Biden made his opposition to charter public schools clear, supporting a ban on certain types of charters, and an increase in regulations – but anti-charter-school policies are already brewing in the states.
Guest: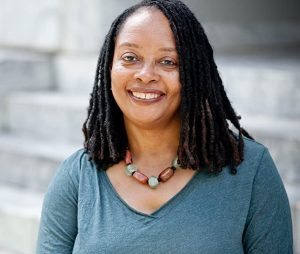 Valerie Boyd is a professor of journalism and the Charlayne Hunter-Gault Distinguished Writer in Residence at the Grady College of Journalism and Mass Communication at the University of Georgia, where she founded and directs the MFA Program in Narrative Nonfiction. She is author of the critically acclaimed biography Wrapped in Rainbows: The Life of Zora Neale Hurston, winner of the Southern Book Award and the American Library Association's Notable Book Award. Wrapped in Rainbows was hailed by Alice Walker as "magnificent" and "extraordinary" and by The Boston Globe as "elegant and exhilarating." Formerly arts editor at The Atlanta Journal-Constitution, Boyd has written articles, essays and reviews for such publications as The Washington Post, The Los Angeles Times, Creative Nonfiction, The Oxford American, Paste, Ms., Essence, and Atlanta Magazine. Boyd is currently curating and editing a collection of Alice Walker's personal journals, which span more than 50 years. Simon & Schuster/37 Ink will publish Gathering Blossoms Under Fire: The Journals of Alice Walker in 2022.
The next episode will air on Wednesday, February 17th, 2021 at 12 pm ET with guest, Terry Teachout, the drama critic at The Wall Street Journal, and author of such books as Pops: A Life of Louis Armstrong and Duke: A Life of Duke Ellington.
Tweet of the Week:
In the right kind of education system – one in which parents control funding – children across the nation would not have their futures dangling on the word & power of a union president https://t.co/fPzSzMP9fJ

We need #schoolchoice now!

— Neal McCluskey (@NealMcCluskey) February 8, 2021
News Links:
Izumi: Under Biden Administration, Charter Schools Face Threats at Multiple Levels
https://timesofsandiego.com/opinion/2021/02/02/under-biden-administration-charter-schools-face-threats-at-multiple-levels/
Exam-School Admissions Come Under Pressure amid Pandemic
https://www.educationnext.org/exam-school-admimssions-come-under-pressure-amid-pandemic-policies-fuel-parent-activism/
Join the conversation and comment on this podcast episode: https://ricochet.com/podcast/the-learning-curve/uga-prof-valerie-boyd-on-zora-neale-hurston-the-harlem-renaissance-black-history-month/.
Now become a Ricochet member for only $5.00 a month! Join and see what you've been missing: https://ricochet.com/membership/.
Subscribe to The Learning Curve in Apple Podcasts (and leave a 5-star review, please!), or by RSS feed. For all our podcasts in one place, subscribe to the Ricochet Audio Network Superfeed in Apple Podcasts or by RSS feed.
For more information, see the original article.