International Best-Seller Dr. Jung Chang On Wild Swans, Mao's Tyranny, & Modern China — The Learning Curve
This podcast was originally published on the The Learning Curve.
This week on "The Learning Curve," Cara and Gerard are joined by Dr. Jung Chang, author of the best-selling books Wild Swans: Three Daughters of China; Mao: The Unknown Story; and Big Sister, Little Sister, Red Sister: Three Women at the Heart of Twentieth-Century China. Dr. Chang discusses Wild Swans, a sweeping narrative about three generations of her family across 20th-century China, and the importance of transmitting firsthand historical knowledge of life under Mao Zedong. She also describes her definitive biography of Mao – which, like Wild Swans, remains banned in China – documenting the carnage under his reign, including the peacetime deaths of an estimated 70 million people. She explores Mao's cult of personality, changing perceptions of his character and legacy, and Maoism's resurgence in China today. Dr. Chang then delves into the topic of her newest book, Big Sister, Little Sister, Red Sister: Three Women at the Heart of Twentieth-Century China, a group biography of the powerful Soong sisters, including Madame Chiang. She concludes with a reading from her memoir, Wild Swans.
Stories of the Week: A new report covered by Time magazine reveals a shocking lack of Holocaust knowledge among Millennials and Gen-Z Americans surveyed across 50 states – troubling evidence of the dangers of woefully inadequate history instruction. CBS News reports that more Black families, when given the option, are likely to choose remote learning, for a variety of reasons having to do with mistrust of the system and safety concerns.
Interview Guest: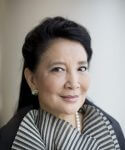 Dr. Jung Chang is the author of the best-selling books Wild Swans: Three Daughters of China (1991); Mao: The Unknown Story (2005, with her husband Jon Halliday); and Empress Dowager Cixi: The Concubine Who Launched Modern China (2013). Her latest book is Big Sister, Little Sister, Red Sister: Three Women at the Heart of Twentieth-Century China (2019). Dr. Chang's books have been translated into more than 40 languages and sold more than 15 million copies worldwide. She has won many book awards and received a number of honorary doctorates from universities in the UK and USA. Born in Sichuan Province, China, in 1952, during the Cultural Revolution (1966-1976) she worked as a peasant, a "barefoot" doctor, a steelworker, and an electrician before becoming an English-language student at Sichuan University. She left China for Britain in 1978 and obtained a Ph.D. in Linguistics in 1982 at the University of York – the first person from Communist China to receive a doctorate from a British university.
Tweet of the Week:
"I have a real worry about what I'm calling a 'data vacation.' I think that a lot of people are using COVID as a timely excuse to take a data vacation for a year or maybe two." —@citizenstewart #beyondthescantron https://t.co/8b0MFVCEJj

— The 74 (@The74) September 20, 2020
The next episode will air on Wednesday, September 30th, 2020 at 12 pm ET with guest, Brenda Wineapple, the author of the award-winning Hawthorne: A Life and The Impeachers: The Trial of Andrew Johnson and the Dream of a Just Nation.
News Links:
Time: "Many Young Americans Don't Know Key Facts About the Holocaust. Now Is the Time to Fix the Way We Teach This History in the U.S."
https://time.com/5890444/holocaust-education/
CBS News: ';"How can I trust it now?" Wary of the system, Black families opt for remote learning'
https://www.cbsnews.com/news/distance-remote-learning-black-families/
Join the conversation and comment on this podcast episode: https://ricochet.com/podcast/the-learning-curve/international-best-seller-dr-jung-chang-on-wild-swans-maos-tyranny-modern-china/.
Now become a Ricochet member for only $5.00 a month! Join and see what you've been missing: https://ricochet.com/membership/.
Subscribe to The Learning Curve in Apple Podcasts (and leave a 5-star review, please!), or by RSS feed. For all our podcasts in one place, subscribe to the Ricochet Audio Network Superfeed in Apple Podcasts or by RSS feed.
For more information, see the original article.