NH Education Commissioner Frank Edelblut on State-Driven K-12 Reform — The Learning Curve
This podcast was originally published on the The Learning Curve.
New Hampshire Education Commissioner Frank Edelblut joins "The Learning Curve" to talk about how to accelerate innovation in schooling and scale creative models, such as the New Hampshire Career Academy and the state's education tax credit scholarship program, to advance opportunity. They also discuss the new NAEP results, the importance of objective measures of student performance, and the need to create learning environments that nurture students' curiosity.
Cara and Bob break down the newly released student performance results from NAEP, known as the Nation's Report Card. In Denver, will next week's school board election mean a setback for school choice and accountability? In Detroit, an "equity lawsuit" that could have national implications regarding students' "fundamental right" to a quality education is making its way through the court system.
Newsmaker Interview Guest: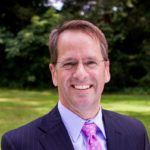 Frank Edelblut is the Commissioner of the New Hampshire Department of Education. In his role as commissioner, Edelblut serves on a number of boards, including as a trustee for the University System of New Hampshire. He is a businessman who started his career as a certified public accountant with a large international accounting firm. Edelblut briefly worked as a chief financial officer for a public company, which was sold to a French firm in 2009. He was a Republican candidate for Governor of New Hampshire in 2016. Previously, Edelblut was a Republican member of the New Hampshire House of Representatives. During his term in the House, he served on the Finance Committee, Special Committee on Pensions and the Child and Family Law Committee. Edelblut attended the University of Rhode Island where he earned a Bachelor of Science, Business Administration – Accounting. He also holds a Masters of Theological Studies from the Holy Cross Greek Orthodox School of Theology.
Commentary of the Week: 
Jonathan Butcher in the Chicago Sun-Times: Tired of the teachers strike? Remember that charter schools are an option
Tweet of the Week:
Next week's guest is Lindsey Burke, Director of the Center for Education Policy, and Will Skillman Fellow in Education Policy, at The Heritage Foundation.
Story Links:
Subscribe to The Learning Curve in iTunes (and leave a 5-star review, please!), or by RSS feed. For all our podcasts in one place, subscribe to the Ricochet Audio Network Superfeed in iTunes or by RSS feed.
For more information, see the original article.